FOR SALE
The following mounts are available for sale.
All were mounted by Simpson Taxidermy Studio & I stand behind them 100%
Prices do not include shipping or state tax (where applicable)



REPLICA LAKE STURGEON HEADS

For more information or to purchase any of these mounts,
stop by the studio during regluar hours,
send me an e-mail


or call toll free 1-877-582-7005 to order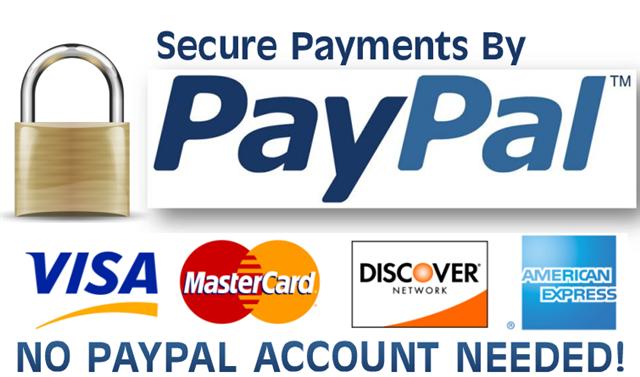 Legal Information on Buying and Selling Taxidermy
Vintage Archery Equipment For Sale
I have an old Hoyt Compound bow, a Pearson recurve, an American recurve, some cedar arrows, a full dozen aluminum arrows and other old pieces of archery equipment.
I also am selling my old XI Legend Magnum compound bow - with everything - arrows, release, quivers, hard case, etc. click
HERE
to see it all.
Exclusive Ural patches now available for fellow Ural riders!
Custom designed by me, high quality embroidered patches.
Patches are 4" wide X 3.5" high
click on image for more purchasing info



Cost is $7.50 each and includes shipping in the USA.
$8 each to Canada or International - includes postage
---
I currently have the following mounts available for immediate sale. There is only 1 of most items and they will be sold on a first come, first serve basis. Prices do not include shipping or WI tax if you are a WI resident. I am now accepting Visa and Matercard credit cards, however, I do not have secure ordering over the Internet, so please call if you want to use your credit card. I also accept cash, money order, cashier, travelers or personal checks. Give me a call if you have questions

Fish Reproductions
Available for immediate purchase
CLICK IMAGE FOR LARGER PIC

DESCRIPTION

PRICE

STOCK #



30" Walleye replica
closed gill covers
On solid hardwood base
With rocky bottom base habitat

$650
w/ Base

SOLD
RRWA20


Bluegill - Length 11.75"
Girth - 14.5" Live wt - 2.35#


$210.00

SOLD

BLG11.7-1


Brook Trout, male -
17.5 " long 11.5" girth
incl. butternut slab panel

$200.00

McG-BkTr18

21" LARGEMOUTH BASS
15.5" GIRTH 5#
W/ DRIFTWOOD
W/O DRIFTWOOD - DEDUCT $15

$275

RH-LMB21
SOLD

40" King Salmon - male
24" girth 31 lb.
Great Lakes spawning coloration

$446.50

NIC-KSalmon40
SOLD


17" Black Crappie
14" girth 3 lb.

$250.00

CRB-17R

35" KING SALMON - MALE
21" Girth - Wt. - Unkown
Summer colors


$446.50




AP-1137P

Others available at different times
call or e-mail for information on custom replicas

Reproduction Lake Sturgeon heads!
These sturgeon head replicas are cast from Lake Winnebago sturgeon
Made ONLY in our studio
The following size are available right now!
Price shown does NOT include panel. Add $12 for solid oak panel, specify oval or shield.





SH-1
cast from a fish
57" long and 85 lb..
Mouth partially extended

$200





SH-2
cast from a fish
65" long and 105 lb..
Mouth partially extended
Shown with shield panel in oak

$225
($237 w/ panel)






SH-3
cast from a fish
67" long and 115 lb.
Mouth partially extended
Shown with shield panel in walnut

$225
($237 w/ panel)





SH-4
cast from a fish
60" long and 95 lb..
Mouth NOT extended
Shown with oval panel in oak

$200
($212 w/ panel)






SH-12 w/ fin
cast from 84" X 220# fish
New 45 degree style replica head with 1 fin



$425

NEW sizes now available
We can add 1 fin and extra body length to any replica head
like SH-12 above for $125 extra.

| | | | |
| --- | --- | --- | --- |
| | SH-7-4758 | 66" LONG x 110 LB. | $250 |
| | SH-8-4849 | 74" LONG x 168 LB. | $250 |
| | SH-9-4951 | 72" LONG x 125 LB. | $250 |
| | SH-10-4952 | 79" LONG x 162 LB. | $250 |
| | SH-12-5241 | 84 " LONG x 220 LB. (WI STATE RECORD - 2010) | $300 |
---


Fish Mounts
NOTE - 5% WI Sales tax and/or shipping is NOT included



28" WALLEYE
New mount - just completed

$336


SOLD
#5835


18 1/2" SMALLMOIUTH BASS 12 1/2" GIRTH
W/ DRIFTWOOD


$225

SOLD
SF-92-SMBASS18

17" SMALLMOUTH BASS ~ 13" GIRTH
W/ DRIFTWOOD

$200

SF5150-SMBASS17



39" MALE KING SALMON ~ 22" GIRTH ~ 25#

$400

SF5419-SALMON39



25 1/2" BURBOT (LAWYER OR FRESHWATER COD)
14.25" GIRTH

$300

SOLD
SF12-BURBOT25

---

Mammals




NEW
Red Fox pedestal mount
on solid oak oval.

$420





2 Squirrels on 1 mount. May be sold seperately for $300 each.
The grey squirrel is scratching his ear, the black squirrel is climbing down the log. More pictures availabel upon request.

$500



Tanned hide - Brown and White calf hide
Flat hide - no head or feet

$125



Tanned hide - Racoon
No feet

$100

---
---

BIRDS







Golden Pheasant w/ wall hung base
$250

NOTE - Wild ducks and geese CANNOT be sold.
Others available at different times - call or e-mail for information.
back to top
---
In response to several questions on selling older mounts that are now protected under the 1975
Convention on Importation of Threatened and Endangered Species (CITES), I contacted the US Fish & Wildlife Service. They gave me the following response -
Thank you for your message asking for information on our laws and regulations pertaining to the sale of wildlife mounts. Our mission is, working with others, to conserve, protect and enhance fish, wildlife, and plants and their habitats for the continuing benefit of the American people.

You are correct that numerous species of birds in the United States are listed as protected in the Migratory Bird Treaty Act (MBTA) and other wildlife mounts may be protected by other Federal laws.

You can find the prohibitions in Section 16 USC §703, of the MBTA and if you go to the Code of Federal Regulations (CFR), Title 50, Part 10.13 you will find a list of the Migratory birds protected under the Act. It is a violation of the MBTA to sell any mounted migratory bird, except in the case of migratory waterfowl that have been captive reared (bird farms) and the waterfowl has been identified as being captive traised. (exoe clipped). Unfortunately, you cannot sell "pre-act" migratory birds.

Our laws pertaining to the MBTA can be found on our website at: http://www.fws.gov. You can also print out a copy of the MBTA from our website. Title 50 of the Code of Federal Regulations (CFR), Part 10, includes a list of all the federally protected birds in North America. This list can be found at the following website: www.access.gpo.gov/nara/cfr/cfr-table-search.html.

With respect to wildlife mounts made from "pre-act" endangered species, they are not illegal to possess, however, unfortunately, you cannot sell them. The Federal statute dealing with the prohibitions of the Endangered Species Act can be found in 16 USC 1538. The Federal regulations dealing with the prohibitions will provide you with a list of animals and fish that are endangered and this list can be found in 50 CFR 17. Both the statute and the regulations can be found at http://www.gpoaccess.gov.

It would be illegal to sell the endangered wildlife mount across State lines. You could legally sell the wildlife mount within your State as long as there are no prohibitions of State law. You should contact your local Department of Natural Resources to inquire about any State prohibitions. Contact information for State wildlife management agencies can be found on our website at: http://offices.fws.gov/statelinks.html You could also donate any wildlife mounts to any person or entity (school, museum, etetc. If you donate the wildlife mount you are not legally allowed to take a tax deduction because this would be treated as an interstate sale if the donation occurred across State lines. There can be no monetary compensation for the donation of an endangered species product.

---
The complete list of mounts covered by the US Endangered Species Act can be found here -
http://www.cfsan.fda.gov/~lrd/50f17a.html
To find out if there are any laws in your state regarding the sale or import/export of any mounted animal -
http://www.fws.gov/offices/statelinks.html

back to top
---
ΜΟΛΩΝ ΛΑΒΕ
MOLON LABE PATCH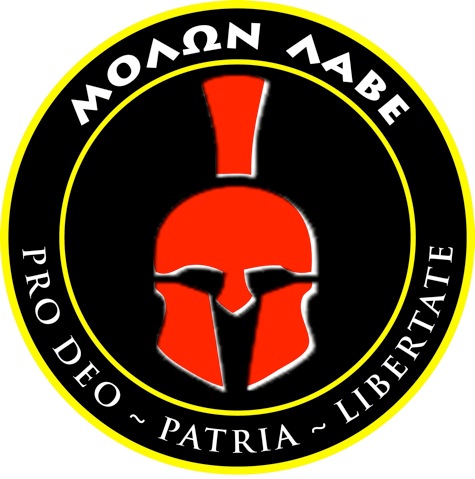 This 3" ROUND EMBROIDERED patch is a unique design is made for & sold exclusively by Simpson Taxidermy Studio. We used the classic Spartan helmet & Molon Labe in Greek letters along with the words - Pro Deo (For God) ~ Patria (Country) ~ Libertate (Liberty)
These patches are available in the studio or by mail.

$5 for the 1st one, $3.50 ea. for additional patches sent to the same address.
Includes postage and info card.
Send payment by check to:
Simpson Taxidermy Studio
523 W. Main St.
Winneconne, WI 54986
OR - Send money via PayPal to studio@simpsontaxidermy.com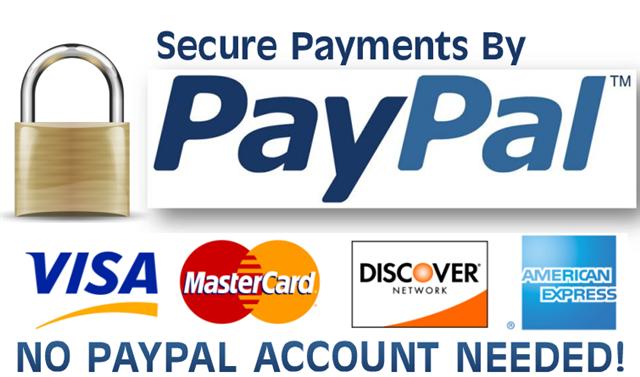 Put Molon Labe in the subject line, include your address and # of patches.
---
What Does
Molon Labe Mean?
(pronounced ~ mo LONE LAH veh)
For those of us that are strong believers in the 2nd Amendment and our right to defend our homes, property and families - no words can sum it up better than the laconic phrase of King Leonidas I of Sparta to Xerxes I of Persia when demanded to lay down their arms and surrender, at the onset of the Battle of Thermopylae (480 BC). "Molon Labe" (Come and Take) was the defiant response of the King of Sparta. He would not surrender nor lay down his weapons.

Instead, the Spartans held Thermopylae for three days and, although they were ultimately annihilated, they inflicted serious damage upon the Persian army, and most importantly delayed its progress to Athens, providing sufficient time for the city's evacuation to the island of Salamis. Though a clear defeat, Thermopylae served as a moral victory and inspired the troops at the Battle of Salamis and the Battle of Plataea.
Molon labe has been repeated by many later generals and politicians in order to express an army's or nation's determination not to surrender. The motto ΜΟΛΩΝ ΛΑΒΕ is on the emblem of the Greek First Army Corps, and is also the motto of United States Special Operations Command Central (SOCCENT). The expression "Come and take it" was a slogan in the Texas Revolution.
In America, both the original Greek phrase and its English translation are often heard from pro-Second Amendment activists as a defense of the right to keep and bear arms. It began to appear on web sites in the late 1990s and early 2000s. In the Second Amendment or firearms freedom context, the phrase expresses the notion that the person uttering the phrase is a strong believer in these ideals and will not surrender their firearms to anyone, including governmental authority.
Since 480 B.C this spirit of defiance in the face of tyranny and overwhelming odds has been expressed in different words by different men, but the same truth comes through.

"The strongest reason for the people to retain the right to bear arms is, as a last resort, to protect themselves against tyranny in government" Thomas Jefferson
"
Anyone who trades liberty for security deserves neither liberty nor security"
Benjamin Franklin
"It's better to die on your feet than to live on your knees." Emiliano Zapata
The Armor of God
Ephesians 6:10
Finally, be strong in the Lord and in his mighty power. 11 Put on the full armor of God, so that you can take your stand against the devil's schemes. 12 For our struggle is not against flesh and blood, but against the rulers, against the authorities, against the powers of this dark world and against the spiritual forces of evil in the heavenly realms. 13 Therefore put on the full armor of God, so that when the day of evil comes, you may be able to stand your ground, and after you have done everything, to stand. 14 Stand firm then, with the belt of truth buckled around your waist, with the breastplate of righteousness in place, 15 and with your feet fitted with the readiness that comes from the gospel of peace. 16 In addition to all this, take up the shield of faith, with which you can extinguish all the flaming arrows of the evil one. 17 Take the helmet of salvation and the sword of the Spirit, which is the word of God.

back to top
---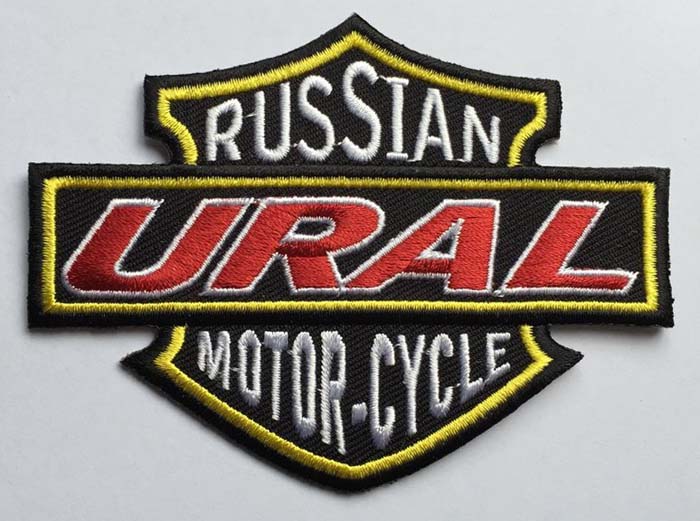 (actual size)


This 4" wide X 3.5" high EMBROIDERED patch is a unique design is made for & sold exclusively by Simpson Taxidermy Studio.
These patches are available in the studio or by mail.


$7.50 each - Includes postage ( up to 2 patches)
$8.00 USD each - for up 2 patches mailed to Canada or overseas
inquire about reduced cost for additional patches sent to the same address.
Send payment by check to:
Simpson Taxidermy Studio
523 W. Main St.
Winneconne, WI 54986
OR - Send money via PayPal to studio@simpsontaxidermy.com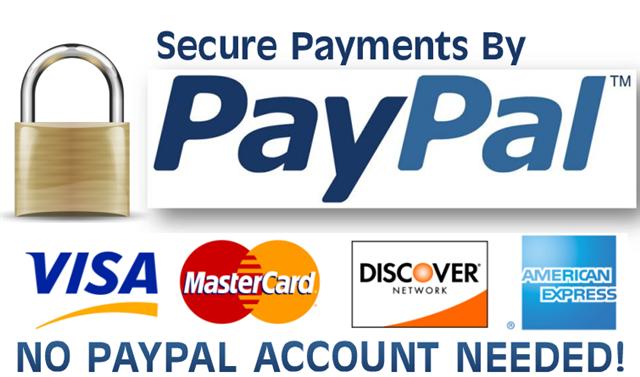 Put
URAL Patch
in the subject line,
include your address and # of patches.
back to top
---
Vintage Archery Equipment For Sale

1. Hoyt / Easton Pro hunter compound bow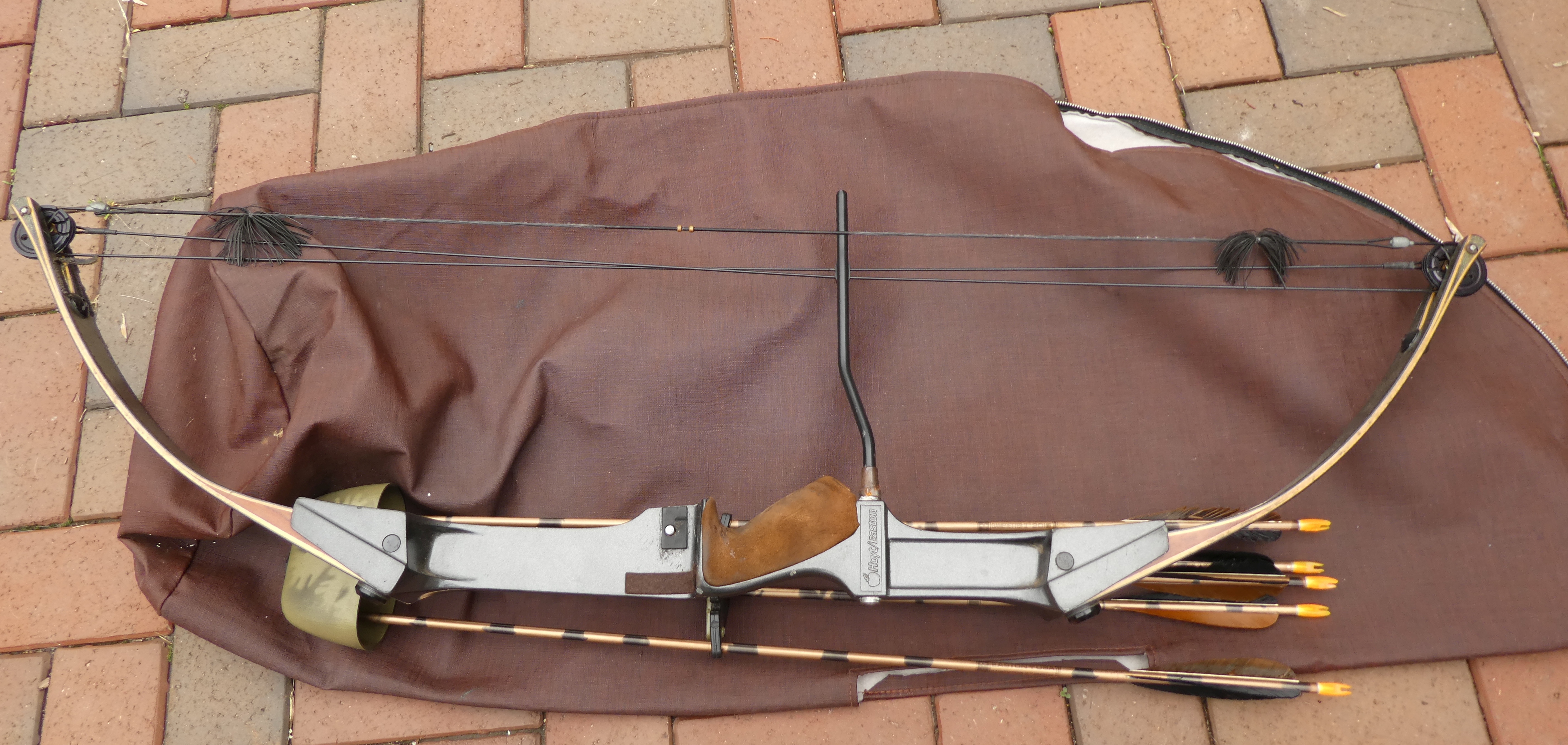 Comes with soft case 5 aluminum arrows and hunting quiver. Asking $75

2. 10 Vintage Cedar Arrows – 5 with broad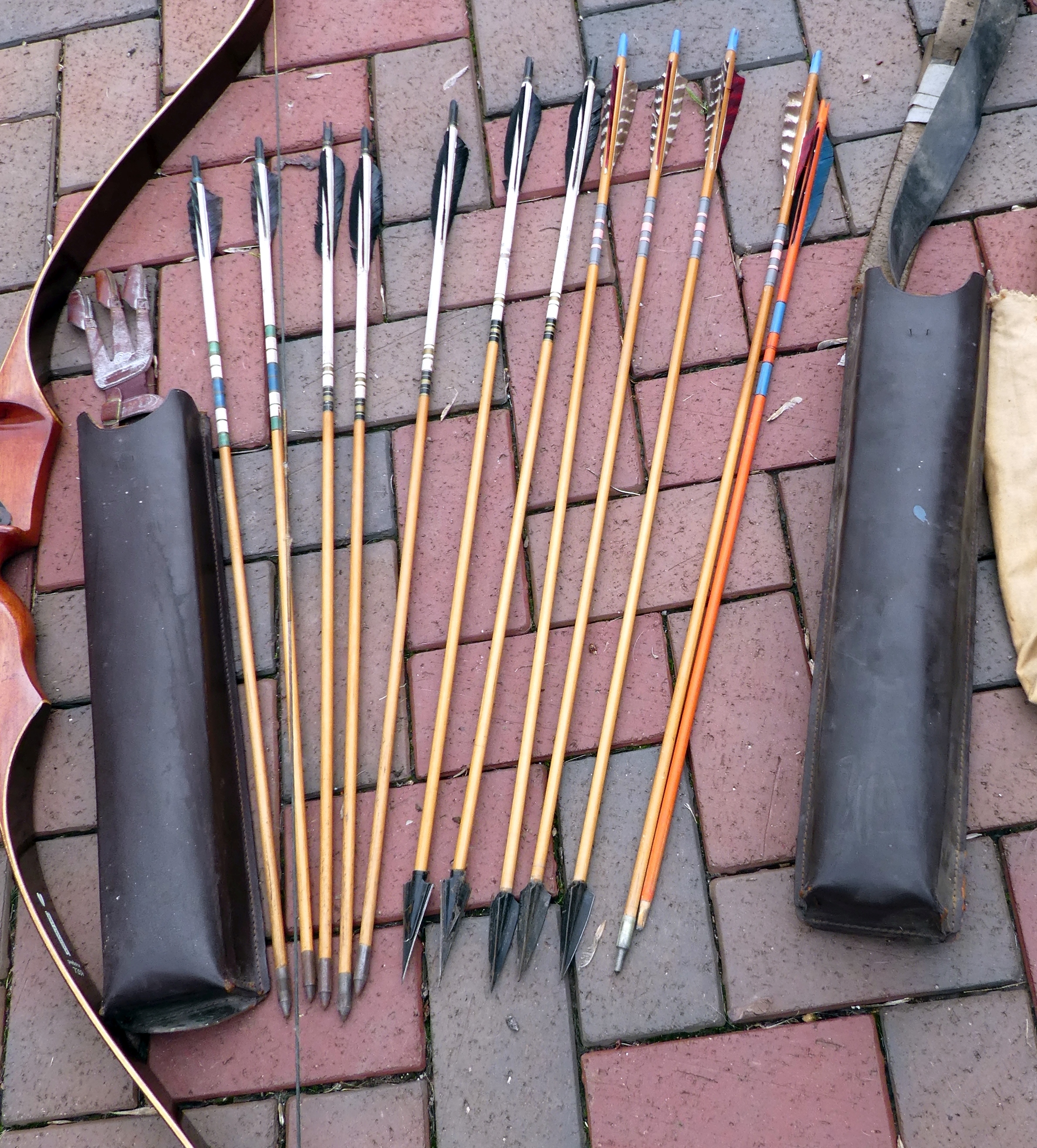 -heads (3 blade fixed) and 5 with field points. Asking $20
3. 2 vintage quivers. Side quiver for target practice and
a bow & arrow holder for outside practice. Asking $10 each
4. 3 Shooting gloves - 3 finger style. Asking $5 each


5. XI Legend Magnum Compound Bow - 45-65#.
Set up for hunting, target shooting or video archery. Comes with target quiver, hunting quiver, adjustable cross-hair sight w/ peep sight, stabilizer and release.
I have 20+ arrows - 5 w/ 125 gr video archery tips, 4 w/ NAP mechanical broad-heads, 6 w/ target points, 2 w/ "blunts" and a couple extras. There is small tool box w/ bow tools, extra broad-heads, nocks, field points and other parts. Comes with a padded hard case. Asking $275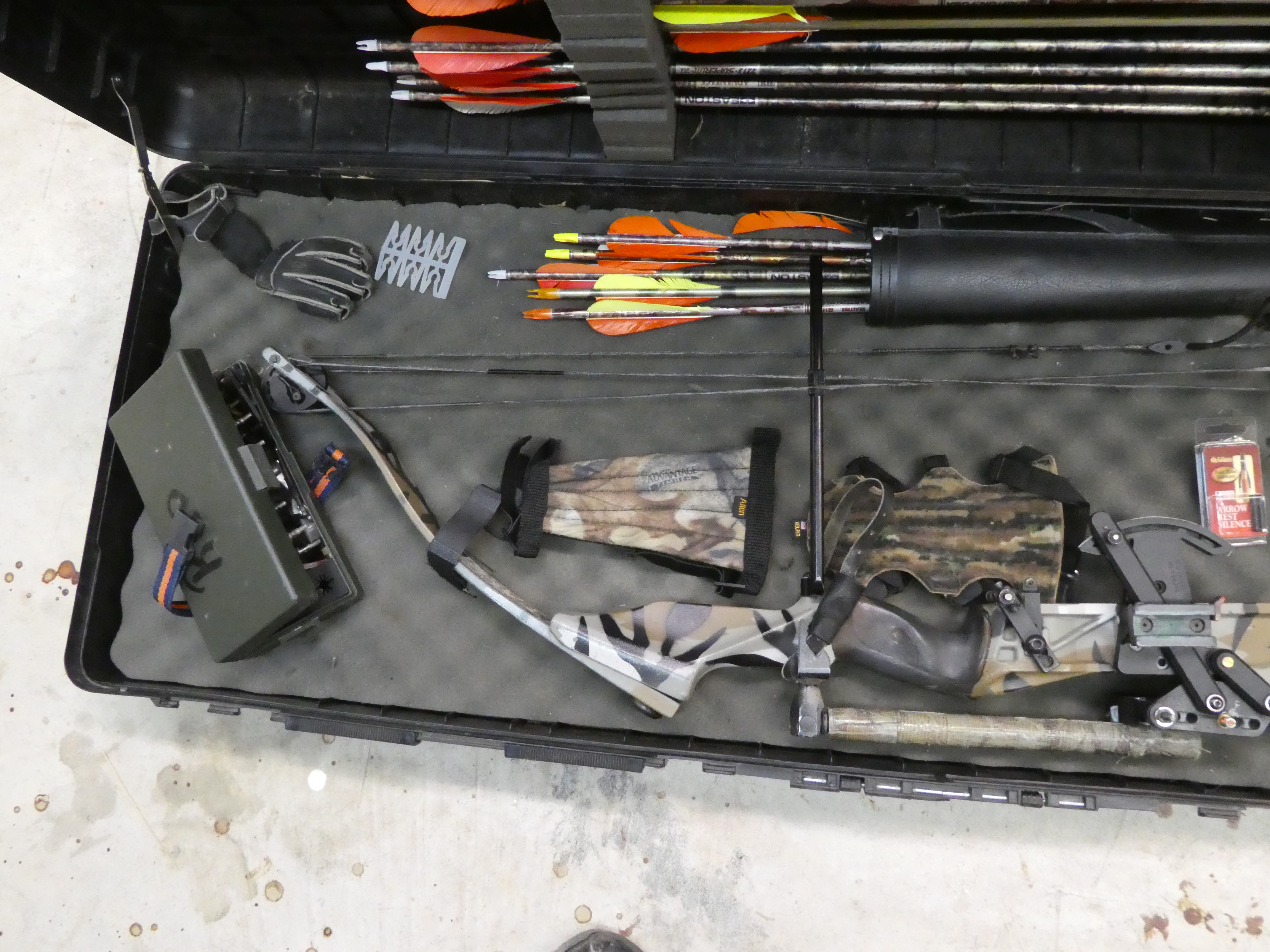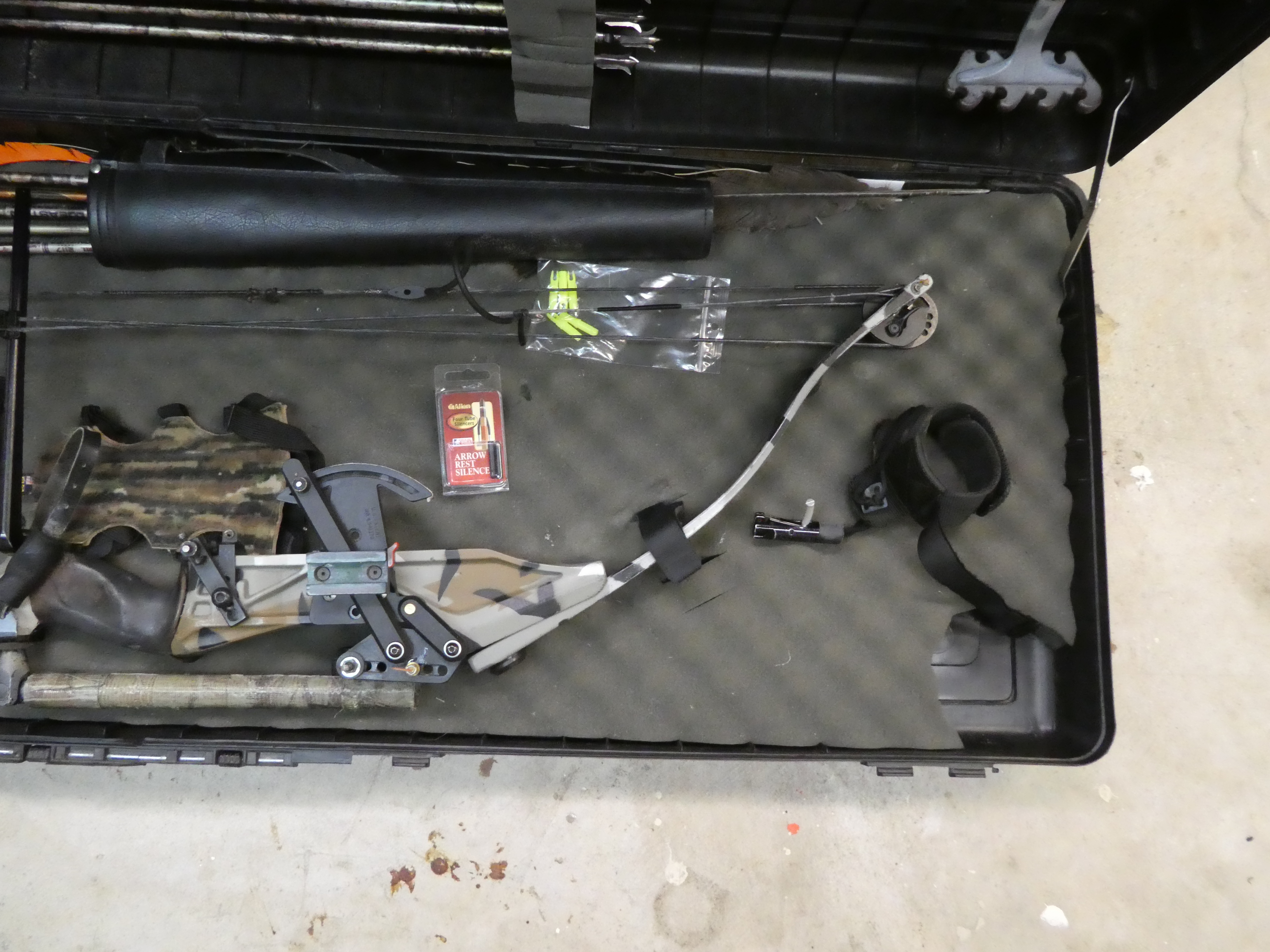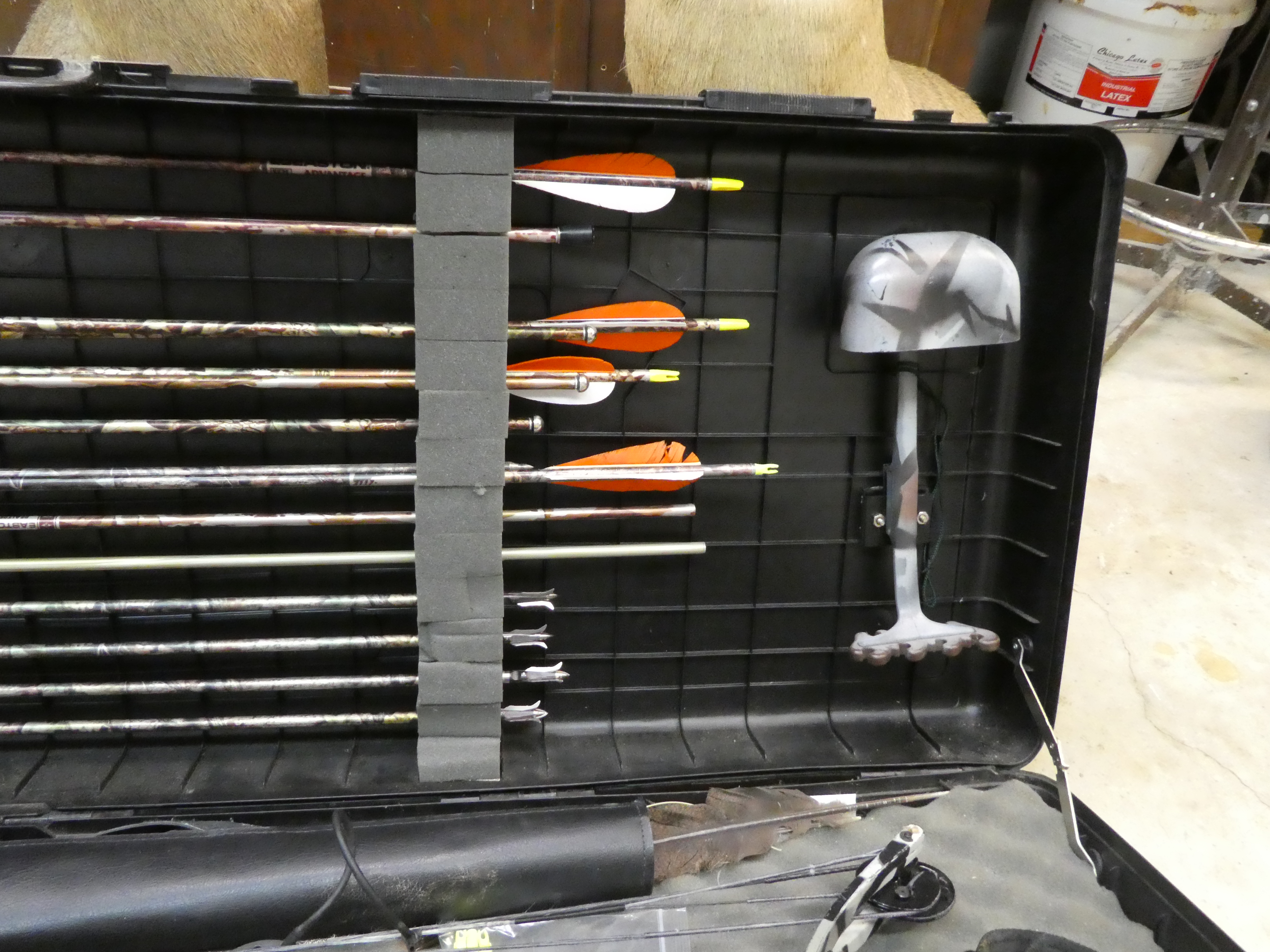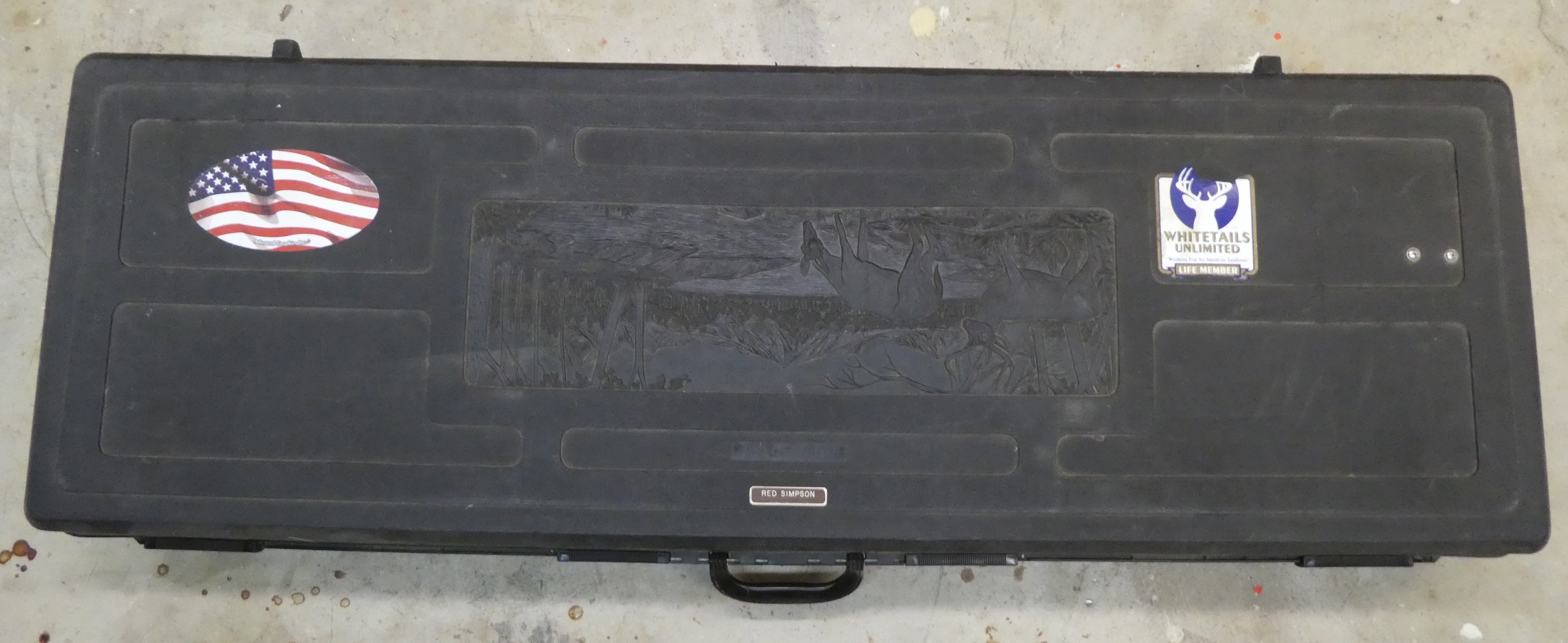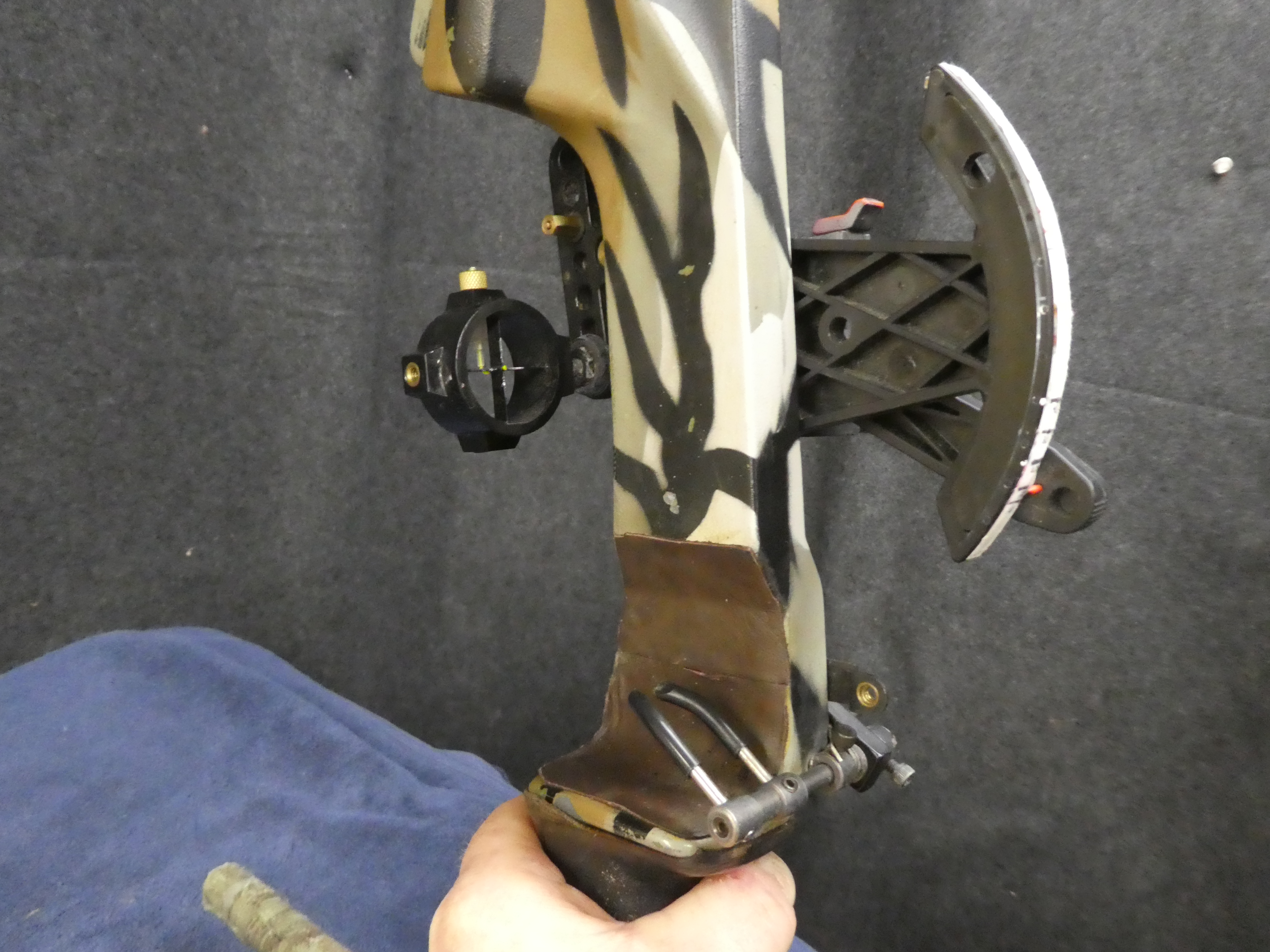 Contact: Red Simpson - 920-582-7985 – Winneconne, WI.

Prices Negotiable.

---

I believe a self righteous liberal or conservative with a cause is more dangerous than a Hell's Angel with an attitude.